Talk to a Qualified Employment Lawyer San Diego
San Diego employment attorney Corey Hanrahan is a litigation lawyer that fights against illegal employment practices. If you are looking for an employment attorney, our firm is the one for you. Mr. Hanrahan is a lawyer with years of experience in workplace rights, employee rights, employment lawsuits, and he is a member of the San Diego County Bar Association and Consumer Attorneys of San Diego. Mr. Hanrahan has been recognized as a Rising Star by Super Lawyers from 2016 to 2018. This recognition is reserved for less than 2.5% of attorneys in San Diego. From 2021 to 2023, Mr. Hanrahan has been recognized as a Super Lawyer for Plaintiff's Employment Litigation. Mr. Hanrahan also offers mediation services with Hanrahan Mediation.
Experienced Employment Lawyer San Diego
Although there are California workplace laws in place, some employers take advantage of the people working for them, and we are here to protect your rights. The Hanrahan Firm handles cases involving violation of California's Fair Employment and Housing Act, as well as those involving violations of wage and hour laws. We help employees who have been required to work off-the-clock, who have not received minimum wage, or who are being denied overtime compensation. We also assist employees who have been harassed, discriminated against, or wrongfully terminated in violation of California and federal law. Contact The Hanrahan Firm today and work with an experienced employment lawyer in San Diego.
How to get Started with a San Diego Employment Lawyer
As a top rated and well-known San Diego employment lawyer, Corey Hanrahan will tell you that all workers have rights that protect them from wrongdoings from their employers, supervisors and co-workers. We help protect employees from these wrongdoings and help seek compensation for the damages caused by unlawful employment practices. Mr. Hanrahan is a skilled San Diego employment attorney here to assist you with your claim when the time comes.
California is one of the few states to have enacted its own employment laws. The California Fair Employment and Housing Act (FEHA) and the California Labor Code protect employees from dishonest and deceitful employers. The Hanrahan Firm uses the protections of the FEHA and the Labor Code to hold employers financially responsible for unlawful treatment of its employees. We are your go-to law firm, and Mr. Hanrahan is your go-to San Diego employment lawyer, for all employment law disputes.
Contact A San Diego Employment Attorney
Free eBook Download
"Top Five Employment Rights That Every California Employee Should Know!"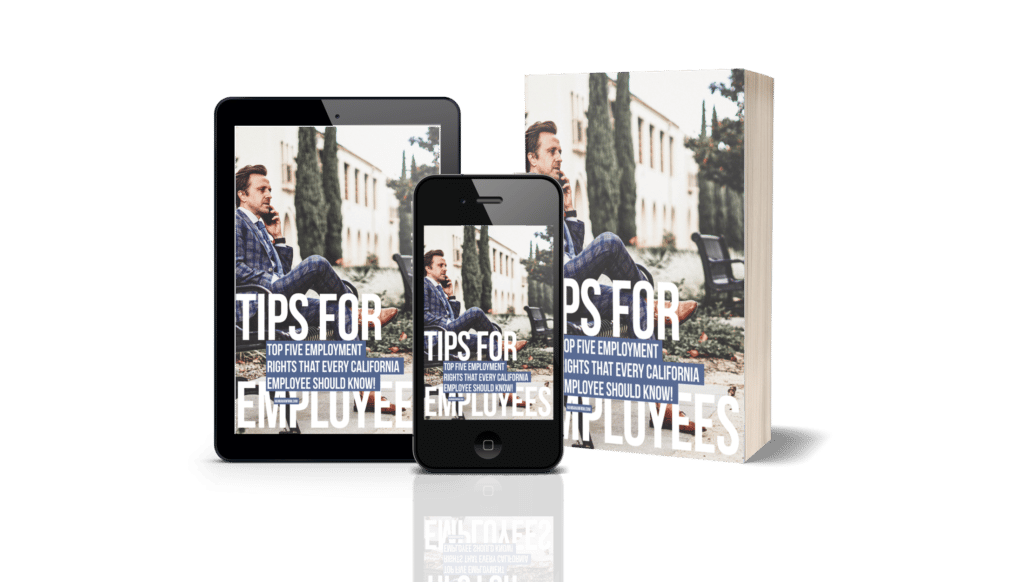 Download our FREE guide to help you start protecting your rights!
Reasons to Hire a San Diego Employment Law Attorney
California workplace laws can be complicated, and employment lawsuits are oftentimes difficult to navigate on your own. You may need to consult with an employment attorney in San Diego if you are facing any legal issues related to your employment. Employment law covers a broad range of topics, and an experienced San Diego employment attorney can help you navigate these issues and protect your rights. An employment lawyer can help you resolve disputes with your employer. This includes negotiating a settlement, filing a complaint with the appropriate state or federal agency, or representing you in court. 
A San Diego employment lawyer can also help you by providing guidance on a variety of workplace issues, including harassment, discrimination, wrongful termination, retaliation, or wage violations. When you hire an employment law attorney, you need to make sure that person or firm is the right fit. In fact, finding the right employment lawyer can be crucial to ensuring a positive outcome for your employment claim. 
Here at The Hanrahan Firm, we always provide a free, zero-cost consultation. We feel it is important for you to speak with us to ensure that you are comfortable with us as your legal representation. You will have the opportunity to ask San Diego employment attorney Corey Hanrahan any questions about your claims, any questions you have about our representation, and he will be personally available throughout the representation to answer any questions you may have. Contact us now for your free consultation and find out how Corey Hanrahan and The Hanrahan Firm can help you.